ALR 2021 – Working Group Chairs
Our Thought Leaders and Facilitaor
First Nations and Indigenous Australia
CHAIR: Susan Moylan-Combs
Founding Director – The Gaimaragal  Group

The Gaimaragal Group's founding director is Susan Moylan-Coombs. The company was established to create a new story of connection and wellbeing for all Australians.
Our aim is to facilitate the voice for our Elders in the contemporary social space, empower our youth to realise their full potential and provide two-way cultural translation to bring individuals and communities together
Susan's ancestry is Woolwonga and Gurindji from the Northern Territory. She has extensive experience working with First Australian communities nationally and internationally, with specific expertise in community consultation, empowerment and the facilitation of voice and storytelling.  Susan previously held the positions of Executive Producer ABC's Indigenous Programs Unit and Head of Production, NITV a division of SBS.
Today, Susan uses her expertise to work with mainstream organisations and communities in the provision of cultural competency and immersion sessions as well as social planning processes. Susan is part of the group known as the Stolen Generations and has lived experience of the trauma associated with removal, loss, dispossession and disconnection.
Susan contributes her time to a number of boards and committees;
A Founding Board member of the PTSD Australia New Zealand (Fearless Outreach)
Founder and current Co-Chair, Guringai Festival Committee
Member Northern Sydney Aboriginal Women's Health Check Committee
Member Northern Sydney Local Health District Aboriginal Advisory Committee
Member Guringai Local Aboriginal Education Consultative Group
Membership of the  Australian Association of Gerontology (AAG)
Health and Human Flourishing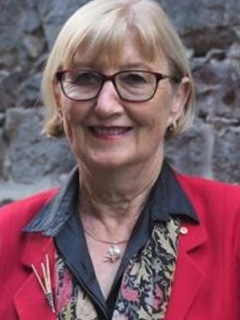 CHAIR: Professor Rosemary Calder AM
Professor of Health Policy, Mitchell Institute – Victoria University
Professor Calder has worked in health policy for more than two decades and heads up the Mitchell Institute's Australian Health Policy Collaboration (AHPC). AHPC brings together more than 60 of Australia's leading health policy experts to advise on the future direction of the country's health policy.
Professor Calder has held positions as a senior executive in health policy and administration in both State and Commonwealth Departments of Health and was head of the Office for the Status of Women in the Commonwealth Department of Prime Minister and Cabinet from 2000 to 2003. She was awarded a Member of the Order of Australia (AM) in the 2015 Australia Day Honours. She received the honour for "significant service to public administration, particularly in the areas of mental health and ageing, through academic roles, and to the community." Professor Calder is a sociologist and began her career as a journalist with The Age.
She is a member of the Expert Steering Committee advising the Federal Government on the development of a 10 year National Preventive Health Strategy.