Australian Leadership Retreat
UPDATE
Due to COVID-19, the Australian Leadership Retreat has been postponed to early 2021. We apologise for the inconvenience and are looking forward to an exciting retreat ahead next year.
The 2020-21 Australian Leadership Retreat marks the 25th anniversary of Australia's preeminent leadership gathering, which has played a prominent and influential role from both a commercial and public policy perspective over the last quarter of a century.
An invitation-only event with strong international participation, the Retreat has a rich history of profound and transformative impacts on businesses and governments – providing participants with exceptional insights into a changing world. Participants inform and influence business and national outcomes through open, robust, and confidential discussion with a deliberate focus on the long term.
Each year, the Retreat brings together around two hundred Australian and international leaders, and has included Prime Ministers, Heads of State, senior Cabinet Ministers, Premiers, senior members of the Opposition, CEOs, entrepreneurs, chairs of major companies, Vice-Chancellors, Nobel Laureates and an amazing faculty of experts on matters central to business and the future of Australia and the world.
The theme of the 2020-21 ALR is: "Shaping the future in a time of crisis"
This theme recognises that in areas such as economics, geopolitics and the environment, major crises seem inevitable. This makes it more important than ever for leaders from business, government and civil society to come together in developing strategies which go beyond crisis management, in order to build a positive and resilient future.
Eminent speakers from around the globe provide deep insights on key issues in an interactive format which encourages new perspectives and the challenging of orthodoxies. Investors, corporate and government leaders as well as market-shaping entrepreneurs will come away with a better understanding of opportunities, as well as the challenges.
Please join us for a program that unfolds with great purpose, focusing on creating, rather than discussing, change.
As always, spouses and partners are most welcome.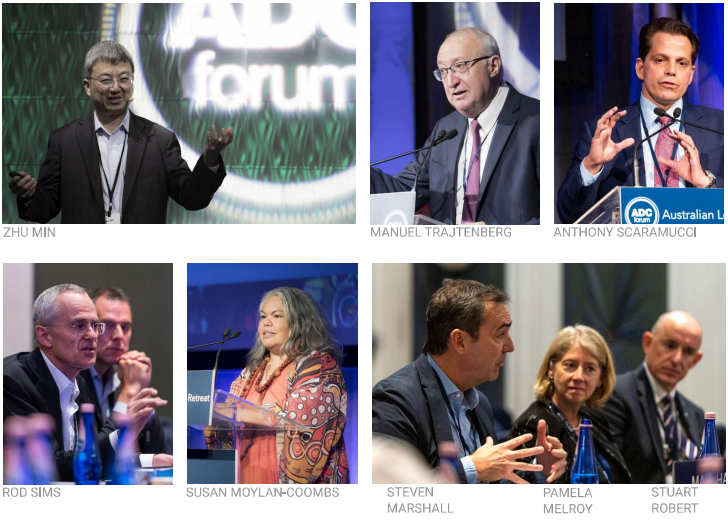 One of the best conferences of this type anywhere in the world.
The financial times